Conrad Smoot works in cooporation with R.C. Smoot Construction

Copyright 2012 Conrad's Castles, Austin, Texas. All Rights Reserved.
Helping Rebuild Bastrop
As we are also Bastrop fire survivors, we know we were very fortunate. Starting over is not easy in any way, but now we can start over with more options that will give you the security, safety, and peace of mind that your family deserves.
Everybody already knows that concrete homes are far superior to wood in so many ways. We are already working on plans and signing contracts with our neighbors here in Bastrop.
Conrads castles would love the opportunity to be the ones that complete your concrete home; but we will also build just the concrete structure for a homeowner that wants to be the builder and are willing to work with other builders.
Be wary of our competitors. Pre-cast/ tilt wall concrete homes have nowhere near the strength, security, or efficiency as our poured in place 10 thick solid concrete walls (homes).
Specializing in Custom Concrete Homes
Conrads Castles custom concrete homes is a family-owned and operated business that has been building concrete homes for 28 years. Concrete housing has been around much longer than most people think. As the cost of living increases, people everywhere are rethinking their needs for affordable ways to live. Many homes become huge financial burdens. A beautiful Conrads Castles concrete home can be affordable to build and to maintain, working in sync with the environment. That s green - building in support of the natural environment. That s sustainable living.
Sustainable Building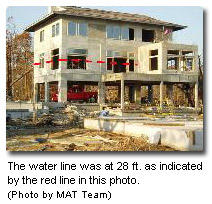 Not all disasters and storms are the same, and considering this house withstood 125mph winds and was 28 underwater, these pictures speak for themselves.